Top 5 Baby Nests
You must have probably seen the pictures on social media - an adorable little baby fast asleep in a soft, snuggly bed that resembles a cocoon. This is a baby nest or a baby cocoon, and it is typically used for the first few months after bringing your newborn home. Here's everything you need to know about baby nests and our hand-picked list of the top 5 nests.
Why should parents buy a baby nest?
The soft, padded sides of a baby nest bed cradle the baby keeping them safe and secure. The best benefit is that you can use it anywhere - inside a cot or on the sofa, for some daytime napping.
The nest closely mimics the feeling of being in the womb. Since they're multifunctional and portable, it gives you the option of safely putting your baby down whenever you need your hands free.
Whether you're cooking dinner or simply answering the door, you'll know that your toddler is safe in their snuggly baby nest. As a new parent, you can do without the anxiety of your baby rolling over and bumping their head somewhere when you're not around!
They also decrease the risk of SIDS (Sudden Infant Death Syndrome). Healthcare professionals recommend laying your baby down on their back, and a baby cocoon is perhaps one of the best ways to follow this.
Must-have features a baby nest should have
Before you buy a baby nest there are a few things you'll have to consider.
Safety:

Safety is the number one priority while buying anything for your little one. The nest should be soft and well-made. The sides should prevent your little one from rolling out.

 
Durability:

Baby nests come in several sizes. You can select one that not only fits your newborn but also can be adjusted for your growing baby. You can also consider buying nests that have more than one function, as they'll be cost-effective in the long run.
Material:

Ensure that the nest you buy is made from an Oeko-Tex standard, 100 product class 1 material. This is a guarantee that the material is baby-safe, non-toxic, and high-quality. The material should also be washable to maintain hygiene.
Top 5 Baby Nests
1.   DockATot Deluxe + Dot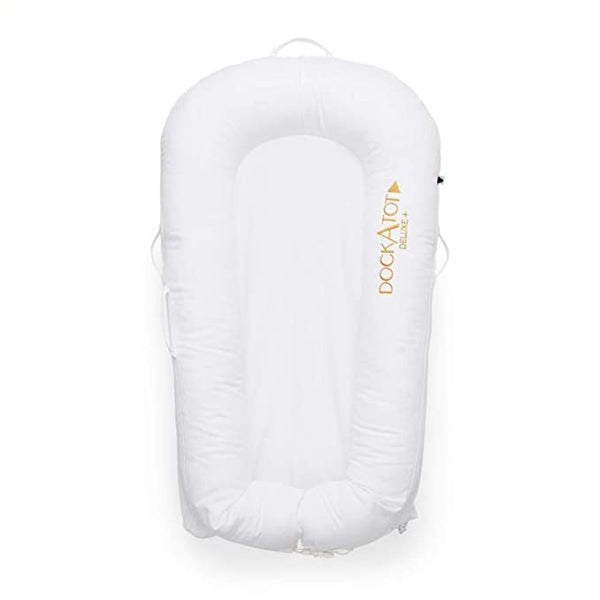 A Dutch brand formerly known as Sleepyhead, the DockATot Deluxe is perhaps one of the most loved and cherished baby cocoons out there. It is super light and you can move it around the house easily with its side handles and zip cover.
It's suitable for babies aged zero to eight months and can be used for a number of purposes other than naptime! It's a great baby nest bed for your little one to practice tummy time, play, or just lounge adorably.
It is firm, supportive, and comes in an array of colors ranging from classic pastels to floral prints. Its changeable covers are non-toxic, soft, non-flammable, and air-permeable. It also unclips at the bottom if your baby needs a little more wiggle room for their tiny toes! 
2.   Pillani Baby Lounger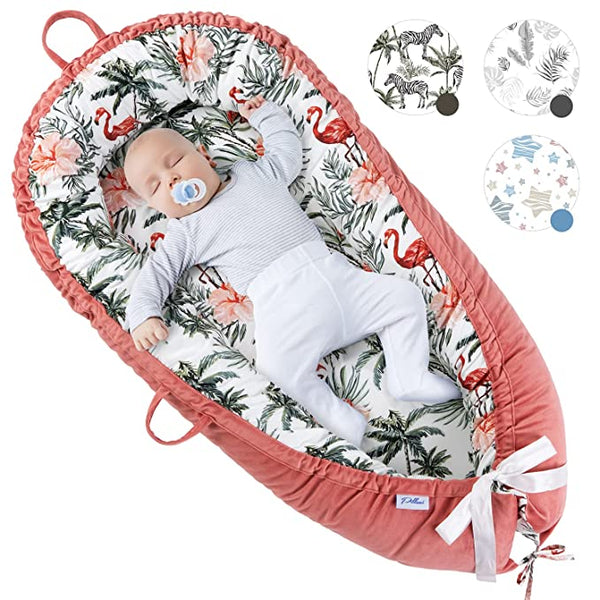 If you love adorable floral or animal prints, the Pillani Baby Lounger is the perfect fit! Made from a breathable, washable, double-sided fabric that's stuffed with pure cotton, this baby sleeping bed is versatile. It can be placed in a bassinet, on a bed, and also be used for travel.
The high-quality elastic sponge mattress at the bottom doesn't twist as your toddler moves and can be easily washed too. One of the best baby nests for newborns, it comes with two adjustable straps which allow you to tighten or loosen the cord at the end of the bumper to fit your baby's length.
It has hidden zippers to guarantee safety and secure seams that ensure durability. It's undoubtedly a breeze to use and grows along with your baby.
3.   MommyLoveBaby Baby Lounger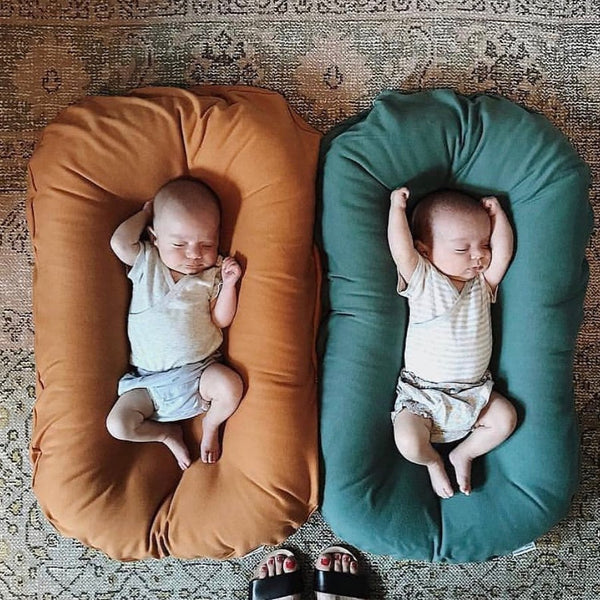 Recommended for infants aged between zero to nine months, this stylish lounging pad will be an extra pair of arms to comfort your baby. The compact, light-weight baby nest pulls in at the sides when you place your baby in the center, leaving them as snug as a bug in a rug!
The snuggling sensation this lounger gives is great at comforting and calming your baby. It is made from organic cotton and non-toxic, hypoallergenic fabric and is machine washable.
It is ideal for tummy time, changing, or lounging, and its neutral minimalist design is a sight for sore eyes.
4.   Mestron Portable Baby Bed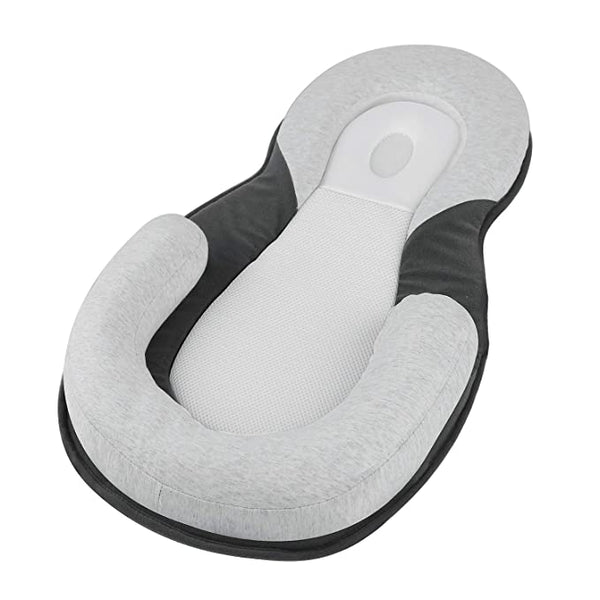 Mestron's premium baby bed made with a high-quality memory foam pad and breathable mesh is one of the best baby nests for newborns. Its unique U-shaped form was specifically designed to address reflux and colic in babies.
Its built-in head support spreads the weight of the baby's head evenly, hence, preventing plagiocephaly or flat-head syndrome. The honeycomb structure of the mattress makes it sturdy yet soft so that your little one can sleep comfortably for hours! 
The velcro-detachable leg support keeps your baby's legs raised to help with digestion but can be removed as your baby grows. It's compact, snuggly, and cozy, making it a good fit for your newborn.
5.   Mamibaby Baby Lounger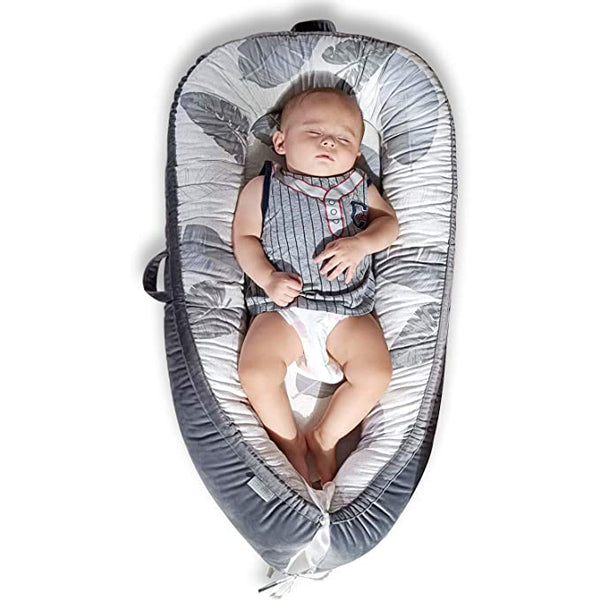 Lovingly designed by mothers and women to support new parents, the Mamibaby baby cocoon is portable, uber cozy, and mimics the warmth of your arms. This ergonomic nest, with 360-degree protective side rails, is your best choice when it comes to co-sleeping safely.
One of the best features of this nest is that it is adjustable; you can just loosen the cord at the bumper end to increase its size. So, you can use this lounger till your baby is twenty-four months old.
The concealed zipper at the bottom of the nest lets you detach the cushion and longer bumper for easier washing. The breathable fabric of this baby sleeping bed has a plain color on one side and cute prints on the other to keep things fun!
Final Words
A baby nest provides a warm and cozy space to put your baby down while you go about your chores. When selecting one, ensure it is safe, durable, and made from a certified fabric. All of the benefits offered by these snuggly beds make baby nests worth their weight in gold!